SFTR is the European regulation regarding the transparency of financial transactions through securities.
The aim of the regulation is to enhance the transparency of information of collateralized funding, such as repos, security loans and commodities (assets and liabilities) and other technical forms of financing guaranteed by securities, such as sell-buy back and margin lending.

The value proposition of CAD IT
The CAD IT SFTR solution has two independent applications:
SFT Reporting
SFT Reporting manages SFT registration and the production and management of reports to trade repositories.
SFT Reporting is a module of the GRS procedure (Global Reporting System) which also manages alerts for EMIR, DFA, FinfraG, MiFIR, SixTR purposes.
REPOS platform (Finance Area module)
REPOS Platform is the Finance Area (AF) procedure module specialized in the management of a wide range of SFTs.
REPOS Platform is updated to SFTR in order to provide the reporting procedure with the necessary data for new reports with reference to the currently managed SFT operations.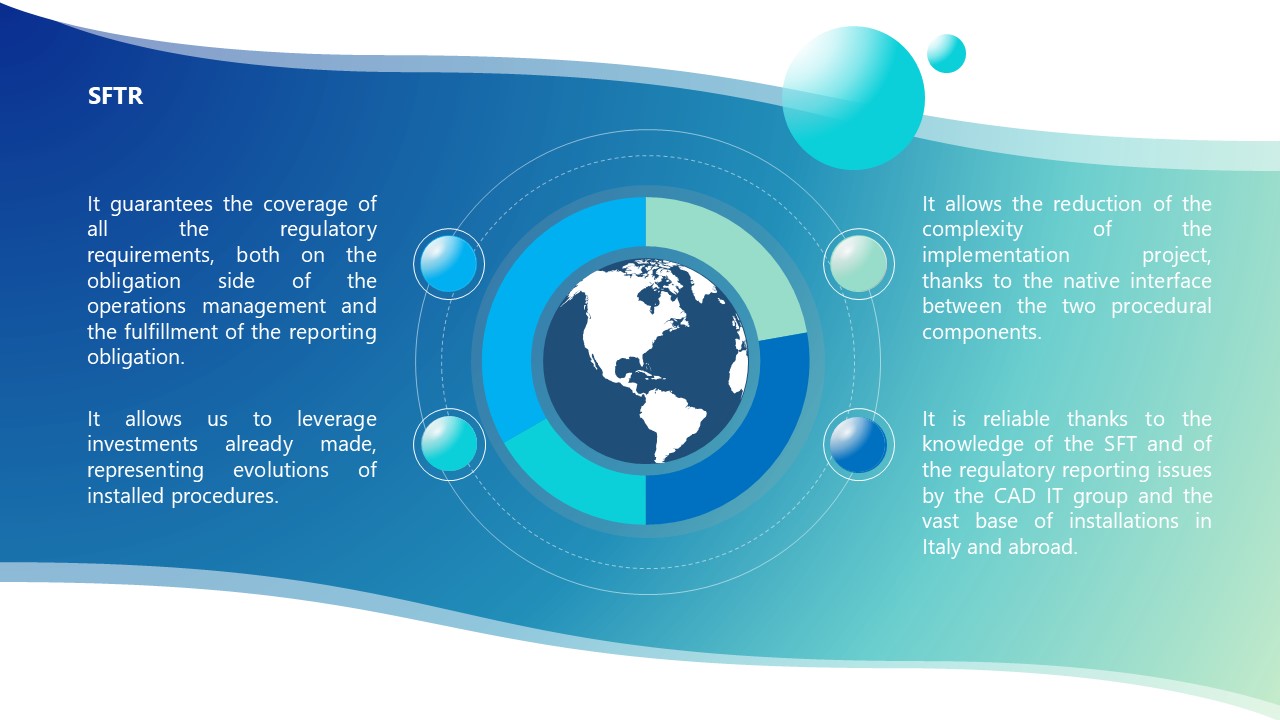 Main benefits
Guarantee of coverage of all regulatory requirements, both in terms of managing SFT transactions (REPOS Platform) and in terms of complying with reporting obligations (SFT Reporting).
Complete automation of the entire reporting process, from data collection to trade repository feed-back management.
Effective supervision of alert activities through a workflow and a monitor that manages and monitors every process, with evidence in real time of only those cases that require employee intervention.
Technical monitor to check the system and input and output processing statuses.
Reliability thanks to CAD IT Group's knowledge of SFTs and regulatory reporting problems as well as to the vast base of installations in Italy and abroad.
Possibility of managing different reports in a single application, through optional modules, sharing common process and governance problems (EMIR, DFA, FinfraG, MiFIR, SixTR), achieving results in terms of process rationalization, costs and risk reduction.
For customers who already have current versions of CAD IT applications:
Enhancement of existing investments that evolve and are further enriched with new functions.
Reduction in implementation project complexity thanks to the native interface between Repos Platform and SFT Reporting.